BPA statement on Black Lives Matter
Like many around the world, we have been deeply shocked by the killing of George Floyd, and the widespread response that has ensued has challenged us to reflect on our own role in addressing racism, as an organisation and as a leader in the high performance sport system in the UK.
Our vision at the British Paralympic Association (BPA) is through sport, inspire a better world for disabled people. We are an organisation that believes passionately in equality and inclusion. These values sit at the heart of everything we do. We are proud of the role we have played over the past 30 years in enabling ParalympicsGB athletes to shine on the world stage, and through their success, to help change attitudes to disabled people in the UK and beyond.
We need to ensure that there are equal and fair opportunities for all disabled athletes. That means a far higher number of Black, Asian and minority ethnic participants taking part in grassroots sport, competitive sport and elite sport, which will give them the opportunity to represent their country as part of ParalympicsGB – as athletes, coaches, and leaders.
Whilst we don't have the answers right now, we are committed to deepening our understanding through consulting widely, through listening, and through reflecting, in order to identify the actions that will lead to genuine, tangible and sustainable change over time. We recognise that to make a significant and lasting change this will only be achieved together with a number of individuals and organisations. Specifically we will commit to the following:
We will engage with UK Sport, the Home Nation Sports Councils, our wider membership including the Sports' National Governing Bodies, and with the International Paralympic Committee to listen, to challenge the status quo and to agree an action plan for change.
We will continue to work with the BPA Athletes' Commission to ensure our athletes' voices are heard throughout this process.
As an organisation, we fall short in terms of BAME representation and we need to change that. We will engage with our wider team and with our board to deepen our understanding of the actions we need to take to put this right.
We are committed to work tirelessly to create a fully inclusive BPA organisation and a ParalympicsGB team where every athlete, has a fair and equal opportunity.
Helene Raynsford, Chair, British Paralympic Association Athletes' Commission
Mike Sharrock, Chief Executive, British Paralympic Association
Joint the ParalympicsGB movement
Join
The ParalympicsGB movement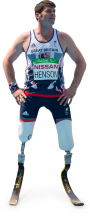 We may include relevant updates from our trusted partners, but will never sell your data on. We take your privacy seriously and you can opt out at any time Privacy Policy