Jawad faces life-changing decision ahead of Tokyo bid
Ali Jawad likes to prove people wrong. Born in a war-torn country, diagnosed with Crohn's disease at 19, and cruelly denied a Paralympic medal in London, the British powerlifter's journey to the Rio podium was remarkable.
When he received a silver medal at Rio 2016, it felt like he had overcome it all. All he needed next was gold.
However, now, as he plots a route to a fourth Paralympic Games at Tokyo 2020, he admits his current battle is perhaps one too far.
Since Rio, Jawad has barely competed. A debilitating Crohn's flare-up kept him out of action for almost 18 months and he has recently been told that none of the medication he has taken has helped.
There are two procedures on the table, a colostomy bag and chemotherapy, both of which would effectively retire him. But a Paralympic gold medal is still at the forefront of his mind. Giving that up is not easy and he is yet to decide what he wants to do.
"The big danger is that I have another huge flare-up and that puts my life at risk," the 29-year-old said.
I am at a stage where one more big flare-up would see me rushed to hospital and put me straight through a procedure because there would be no other option.
"I have two life-changing options available and I have to make a decision. If I take either option, I won't get to Tokyo – but if I reject those options then the likelihood of a flare-up increases massively.
"I have some big decisions to make. Ever since I was six, my goal in life has been to win a Paralympic gold medal.
"I have a silver and the only progression from there is gold. My task now is very tough because I have never had a clean run into a Games.
"With what has gone on since Rio, just to get to Tokyo would be a fine achievement. Because of the age I am at, this is it really. To risk Tokyo – which will probably be my last Games – is quite tough.
"Do I risk it or do I retire now and put my health first? I don't know. It is a huge decision. Those two options will still be available to me after Tokyo. Ideally, I would win gold and then retire there and then."

Jawad claimed Paralympic silver in Rio.
Jawad insists he will have made up his mind by Christmas but for now he is focussed on getting back to the top of his game.
The road has been so rocky that the Lebanese-born Jawad has only competed once since the Commonwealth Games, where he won bronze in the -54KG category – down on his prime weight of -59KG.
Severe weight loss has meant he can no longer compete at his former weight but he is now on the road to recovery – back training at the University of East London for next year's World Championships in Kazakhstan.
"When I came back from the Europeans I relapsed a bit with Crohn's so I have been trying to battle back since," he added.
"I probably won't compete again now until next year. I want to get my fitness back to a good level."
Unlike in previous years, Jawad will not compete against familiar names. He is not sure where he ranks in the world at -54KG, which is why that Commonwealth bronze meant as much as the Paralympic silver, and that plays on his mind.
"I just have not been very hungry. It was annoying at the beginning but it is part of the disease, it is so unpredictable – you just have to accept that you will be out for such a long time," he said.
You can be in so much pain that you just don't want to eat.
"The big symptom is weight loss. I can't absorb nutrients from food, there is no appetite because of the pain.
"It is hard to have a normal daily life when you are in so much pain. With Crohn's, the fatigue levels are so high so you get tired doing the most basic things. And then fighting pain is tiring in itself.
"You have to accept it. When you are used to it, it becomes a normal thing sadly. I am a stone lighter than I was in Rio so I can't be at my old weight. I don't know where I am in the world but I want to find out next year."
18 months is a long time to be out and staying mentally strong can be tough – so Jawad has turned his mind away from competition.

Jawad returned to win Commonwealth Games bronze earlier this year
He has become a UK Anti-Doping Athlete Commission member, campaigning for drugs free sport and advising athletes on how best to look after their bodies.
It has paved the way for a future career.
"I have been passionate since I started," he said.
"The first time I was in a gym, my coach Dave Kay sat me down and said that the people I am up against could be doping.
"He told me to make a decision. Do what they do to win or be proud that I am the best clean athlete in the world – he then said if I took the first option I have to get out of his gym. That opened my eyes.
"I do a lot of research myself. I have had time on my hands and I have had to focus on other things. I can't train or compete so I have had to have another goal.
"Whatever happens, it will be exciting."
Joint the ParalympicsGB movement
Join
The ParalympicsGB movement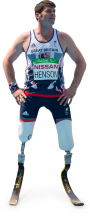 We may include relevant updates from our trusted partners, but will never sell your data on. We take your privacy seriously and you can opt out at any time Privacy Policy