Lauren Steadman answers your questions!
Last month, our email subscribers had the chance to send in their questions to the incredible Rio 2016 Silver medallist and Celebrity SAS recruit Lauren Steadman. We had some great questions so thanks for sending them in. If you aren't part of our mailing list so missed out, join our movement and sign up to our emails for more exclusive opportunities like this one!
I'm a registered severely vision impaired marathon and ultra-runner. I'm often asked what drives me and my answer is our Paralympians but what is your inspiration? (Marathon racer)
Lauren: My actual answer is the same as yours! I have never seen myself as disabled or limited in anyway. I can remember being only 15 years old at my first Paralympics, and watching other Paralympians with more limiting disabilities than myself, and thinking wow, you are incredible. I have zero excuses and want to show everyone that there are no limits! That and food…I know the harder I work the more I can consume and there are many moments where I am in the hurt locker, and I imagine my spaghetti Bolognese or a bowl of crunchy nut!!
Have you ever thought of training the Paralympic sport of taekwondo? Or does any other sport appeal to you? (Andrew, Taekwondo Coach)
Lauren: Yes to Taekwondo! Me and my father went to martial arts classes when I was younger. It really helped to build my confidence. I had to stop to avoid any injuries, but post triathlon I'm planning on continuing to learn a martial art! As for other sports, I would also like to take up a winter sport. I love skiing
What your favourite thing to do before a race? (Emily)
Lauren: My favourite thing to do before a race, is the night before, I take myself away for a solid energising meal just myself and my coach and we don't mention the race at all. Everything but! And usually a cheeky dessert!
How do you motivate yourself when your times are not improving? (Chris, keen runner)
Lauren: I used to get very frustrated and at one point when I was still a swimmer I didn't get faster for 4 years which was soul destroying. But my coach told me that there are more things than times and stats to improve on. Did I have a good start reaction, a quick tumble turn, now in triathlon, did I have quick transitions, did I attack the corners, sometimes turning the attention away from the major parts and focusing on the smaller things can help everything improve. It's tough but remember it's a process, it doesn't happen over night! It takes time, low periods and you will always come out the other side.
Hi Lauren, you visited the school I teach at (Portchester Community) before the 2012 London Paralympic Games. How do you feel you have changed as a person over the past 8 years? Thanks! (Dave, teacher)
Lauren: Great question! I feel that I have matured as an athlete, and realised that it's okay to have rest. Quality over quantity is definitely where it's at! And how I approach racing has changed to, learning to only worry about the things you can control! Outside of being an athlete I've learnt to have a much more balanced life. I'm more sociable and open to trying new things.
How are you keeping fit and entertained during lockdown? (Bev, cycling enthusiast)
I am still training 2-5 hours a day spilt between running, cycling and gym work, and outside of this cooking, baking, I'm trying to learn to knit too (not very successfully!).
Stay safe!
Lauren x
Joint the ParalympicsGB movement
Join
The ParalympicsGB movement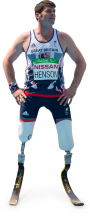 We may include relevant updates from our trusted partners, but will never sell your data on. We take your privacy seriously and you can opt out at any time Privacy Policy