Rising Phoenix review by Tanni Grey-Thompson
By her own admission it takes a lot to bring out emotions in one of the world's most decorated Paralympians Tanni Grey-Thompson. During her illustrious sporting career she competed at five Paralympic Games winning an astonishing 16 medals and is now a very active member of the House of Lords campaigning on a range of disability issues.

Tanni takes gold in Athens
Watching Rising Phoenix, a beautiful film which premiers on Netflix from August 26, telling the story of how the Paralympic movement emerged from the rubble of World War II to become the third biggest sporting event on the planet she was unable to keep those emotions in check.
Tanni said: "Some of it was really quite emotional and I am not an emotional person. I just felt very proud watching it. Rising Phoenix features a broad range of athletes and you really get to know the people behind the sport. I really loved watching it, if I hadn't I would have switched off after ten minutes!
"They've clearly spent a lot of money on it as it's such a beautiful film. It's really high quality: the music, the camera work, the production and everything else that has gone in to making it. The quality of the film made me feel the Paralympic Games is really valued and important that they deemed it worthy of this level of investment and craft."
Rising Phoenix features deeply personal insights from a range of athletes including Bebe Vio, who is known as the Rising Phoenix because of her indomitable spirit, Jean-Baptiste Aliaze who was injured fleeing the civil war in Burundi and ParalympicsGB's sprint star Jonnie Peacock.
Rising Phoenix: Watch the trailer
Tanni said: "When I was told they had the money for the movie there was a bit of trepidation as I was thinking I really hope it's not the "inspiration porn" you sometime get when people talk about disability."
"But from the minute it started those fears ebbed away. The athletes' stories are told in a straight way and are in no way patronising but it doesn't shy away from the reality of being disabled – it tells their stories as they really are, including amputation.
"It showcases the Paralympics for all the positive impact it can have and that's what makes this film so very powerful. It shows the humanity and human endeavour behind great sporting achievement.
"As someone who has always been interested in history, I found the archive footage from the the Stoke Mandeville Games, which were the birthplace of Paralympic sport in the 1940s, absolutely amazing. To see how it has grown to be one of the biggest sporting events in the world makes me feel immensely proud
To have this story made accessible to the Netflix audience is a huge moment for the Paralympic movement
"To have this story made accessible to the Netflix audience is a huge moment for the Paralympic movement. But I want to emphasise you don't have to be a sports fan to watch Rising Phoenix – I think it has incredible potential to change the way the Paralympic Games and disability are seen.
"For the British audience part of it will be about getting to know the international names – we need people to get to know the global picture to understand the rivalries. But it's also understanding there are very different approaches to disabilities among differing countries and cultures and there are some countries where disability is still seen as evil. It's really important that we have that understanding of this and recognise there are still places where Paralympics athletes have no platform, no voice and little or no media coverage.
"Sometimes I think It feels like there's a massive responsibility on the Paralympic Games to fix all the ills of disabled people in society and clearly it can't do that. The Paralympics need to continue to be a world class sporting event and if attitudes change as part of that its great. Whereas I think Rising Phoenix really does have the ability to change people's attitudes in a way the sport alone cannot.
"This film can open people's mind to disability in a different way, that its not tragic, that everyone's story is unique. I still get people coming up to me and saying "I wouldn't want to live if I was like you" and I competed in five Paralympic Games and am a member of the House of Lords so it's not exactly a bad life!
"I have always had massive aspiration for the Paralympics – when I was competing I would say; "we still need to see the first $1million shoe contracts for Paralympic athletes to know we have moved to the higher level" – but this film is definitely on the money when demonstrating the incredible impact of the Paralympic movement on challenging perceptions of disability."
Rising Phoenix is now streaming on Netflix
Joint the ParalympicsGB movement
Join
The ParalympicsGB movement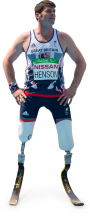 We may include relevant updates from our trusted partners, but will never sell your data on. We take your privacy seriously and you can opt out at any time Privacy Policy