Role: Parasport Lived Experience Advisory Board Member
Role title: Parasport Lived Experience Advisory Board Member
Remuneration: £25.00 per hour plus reasonable expenses. No more than 2 hours per month plus reasonable expenses.
Role requirements: 2 hours per month (This may vary from month to month.)
Do you want to be a key part of a high-profile campaign to encourage more disabled people to become more active by participating in sport or physical activity?
Parasport powered by Toyota is an online hub to empower disabled people to become more active and increase the range and awareness of sport and physical activity opportunities available for disabled people throughout the UK.
Parasport is part of Toyota GB's commitment to making movement better for people and helps ParalympicsGB deliver its vision: Through sport, inspire a better world for disabled people.
We want everyone to discover the benefit of being more active – meeting friends, increasing confidence, and becoming more physically active while also supporting mental wellbeing. The Parasport Lived Experience Advisory Board (Parasport LAB) will provide a distinct and strong voice for those with personal lived experience of having a disability or impairment and navigating the sport and physical activity sector. We want to capture a broad range of experiences from a diverse mix of people.
The Parasport LAB is brand new and will form a key part of the next phase of the Parasport Programme. You will be a part of shaping that work from the outset, bringing your lived experience to shape and develop the programme. Supporting Parasport in setting and achieving its strategic objectives.
If you have a passion for enhancing inclusive sport and physical activity for disabled people and you meet the criteria within the role profile, please apply by following the instructions below.
The British Paralympic Association is fully committed to the principles of the equality of opportunity. It is responsible for ensuring that no applicant receives less favourable treatment, on the grounds of age, race, disability, parental or marital status, religious belief, sex, gender, social status or sexual orientation, than any other.
For details of the person specification download the role profile, application form and Equal Opportunities Monitoring Form below:
Please note, participation in the Parasport LAB is not an employment relationship with the BPA.
Please send your completed application form, completed equal opportunities monitoring form and CV to Natalia Stanowska, Parasport Engagement Officer, via email at info@parasport.org.uk or by post to:
Parasport Team
British Paralympic Association
101 New Cavendish Street
London
W1W 6XH
Closing Date: Monday 9th May 2022.
Candidates who have been shortlisted will be notified by 20th May 2022.
Data Protection: The BPA will process and store and your personal information (this means any information that identifies or could identify you) for the purposes of selecting people for the Parasport LAB, for a period of up to six months after the closing date, after which it will be securely disposed.
Join the ParalympicsGB movement
Join
The ParalympicsGB movement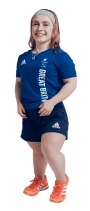 We may include relevant updates from our trusted partners, but will never sell your data on. We take your privacy seriously and you can opt out at any time Privacy Policy