The Inside Track: 8 questions with Claire Cashmore MBE
We spoke with seasoned Paralympian Claire Cashmore on the growth of the Paralympic movement and stepping out your comfort zone.
1. What does being part of ParalympicsGB mean to you?
It's a huge honour to be part of one of the best organisations in Paralympic sport. It's an incredible feeling when all the hard work pays off and you finally get that opportunity to pull on your own ParalympicsGB tracksuit - being able to call yourself a Paralympian is a very special label.
2. You've attended four Paralympic Games, what has been your biggest highlight from them?
There are so many highlights but I think it has to be London 2012. I remember the doors to the call up room opening and walking out to the incredible roar from the crowd and the sea of union jacks. It gives me goosebumps to think about it and I feel really lucky that I had the opportunity to compete in a home Paralympic Games within my sporting career.

Claire Cashmore celebrates winning SB8 100m breaststroke silver at London 2012
3. How has Paralympic sport changed in that time?
It's changed massively. In Athens 2004 a lot of people didn't really know much about the Paralympics Games and would often call it 'The Olympics', 'not the real Olympics' or 'The Special Olympics'. There was little coverage, very few household names and therefore, very little excitement around the Paralympic Games.
London 2012 was a real turning point for the Paralympic movement, the buzz around the Paralympic Games was huge and we were finally starting to get the coverage we deserved, rather than being an afterthought. The response from the public was brilliant, we were finally seen as elite athletes that happened to have a disability rather than disabled people taking part in physical activity.
It's exciting to see more and more Paralympic athletes in the public eye, receiving sponsorship deals from big companies and on reality TV, hopefully this will continue to progress. The Paralympic Games still has a long way to go to be on equal footing with the Olympic Games however, it is moving in the right direction and I am excited to see what the future holds.
4. Why did you make the move from swimming to triathlon?
I had always wanted to give triathlon a go so when I saw it was making its debut in 2016, I decided I would love to get involved. After Rio 2016, it seemed like the best time to transition into triathlon, to give myself a Paralympic cycle to learn the tricks of the trade. It was a huge leap outside of my comfort zone but it was 100% the right decision.
5. How has your training regime changed as a triathlete?
It's changed massively, I am now juggling the demands of three sports rather than just one. Time wise I am probably spending a similar amount of time training, however across the three elements, and it is the variety that I love.
As a swimmer my race was over in 80 seconds whereas in triathlon the race is over an hour so I have had to try and train my body from being a fast twitch, lactate producing machine to a more aerobic, slow twitch machine that I don't blow up in the first 200 metres of the swim!
6. What advice would you give someone trying out a new sport?
Stepping outside your comfort zone is often where we discover the most incredible things. Ask yourself what have you got to lose? Throw yourself into the new challenge, make friends, have fun, laugh a lot and pick yourself up and try again when things don't go quite to plan.
7. What do you do for fun?
I am a massive foodie so going out for dinner and trying new restaurants is something myself and partner Dave Ellis (Para triathlete) love to do in our spare time.
Travelling is another passion, hopefully we will get to tick more places off the bucket list when the world gets back to normal, but for the time being we have converted our car into a camper van and hoping to see more of the beautiful country we live in.
8. Looking ahead to Tokyo 2020, how does the public support help you to perform at your best?
Knowing that the public are rooting for you gives you a huge morale boost. This support and encouragement can boost confidence and for many have a huge impact on race day performance.
However, the ongoing support throughout the Paralympic cycle is also hugely appreciated. Sometimes as athletes we are seen as machines and that we are motivated 365 days of the year, however we are human, and we have bad days, particularly with all the uncertainty right now a bit of support/check in may really help support those who may be having a tougher time.
Joint the ParalympicsGB movement
Join
The ParalympicsGB movement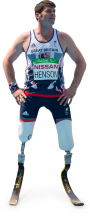 We may include relevant updates from our trusted partners, but will never sell your data on. We take your privacy seriously and you can opt out at any time Privacy Policy