The Inside Track: 8 questions with Jaco van Gass
We chat with cyclist and adventurer Jaco van Gass about where his Paralympic dreams started, what training is like now and his go-to snack.
1) What does being part of the ParalympicsGB team mean to you?
It's a great honour to be part of the ParalympicsGB team and to represent the country in a different capacity than my military background. This is also a great opportunity to showcase that your circumstances in life and facing adversity doesn't define you. I hope that I can make the nation proud at Tokyo 2020.
2) What inspired you to get involved in Paralympic sport?
I was inspired by the London 2012 Paralympic Games. At the time I lived in London and had the opportunity to be a spectator at some of the events. The atmosphere, the crowd and the sheer inspiration from the Paralympic athletes had a huge impact on me and I knew that I wanted to be a part of it. I hope that in Tokyo, we can inspire more people to take part in the future Paralympic Games.
3) If you weren't a cyclist what other sport would you want to compete in at The Paralympic Games?
For a Summer Games, I would say rowing. For a Winter Paralympics, I think Biathlon!
4) You're back training for Tokyo 2020, how is your training environment different to before Covid-19?
It was hard at first to comprehend that the Games might not go ahead this year and I continued my training as normal, at a high intensity. Once it sunk in that it wouldn't be this year, I realised that there is still some time before the next Games and I adjusted my training accordingly. I took this opportunity for a bit of rest and spending some quality time with my fiancé.
The biggest change is the cancellation in most/all events this year. So currently, we are training for training sake and not for a specific event.
5) How easy was it to get back to training? How have you motivated yourself?
I haven't ever fully stopped training, so I haven't found it difficult to get back to the regular routine. I found motivation and joy by riding a variety of bikes (track/road/off road). This helped to mix things up and keep training exciting.
6) What's your favourite post training snack?
Crumpets with Nutella and banana on top!!
7) You've done a lot of adventures from trekking the North Pole to attempting Everest, do you have other challenges on your bucket list?
Yes! I would love to trek to the South Pole, make a second attempt of Everest and come up with some crazy/fun cycling challenges too!
8) Looking ahead to Tokyo 2020, how does the public support help you to perform at your best?
The support from the public means a huge amount, knowing that they will be watching, cheering and spurring us on will help to lay it all out on the line on race day.
Join the ParalympicsGB movement
Join
The ParalympicsGB movement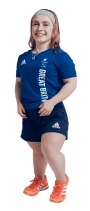 We may include relevant updates from our trusted partners, but will never sell your data on. We take your privacy seriously and you can opt out at any time Privacy Policy